March 22, 2016 - Yangon, Myanmar
---
Welcome to Myanmar
We finally left Thailand and made our way across the border to Myanmar. Myanmar, also known as Burma, is a very dynamic country. International sanctions were recently lifted when the first non-military government was elected in 2011. There is still clashes of violence between the different ethnic groups in many areas of the country, but for the most part it is stable. The people of Myanmar are incredibly friendly; the service at all hotels and restaurants was outstanding and everywhere we turned, there seemed to be a friendly face who was happy to help us in any way. There is very little crime in the cities and almost none towards tourists. We loved it right away.

The video above shows us walking from Sule Pagoda back to our hotel. The hectic sidewalk was full of vendors hawking raw meat, fried crickets, vegetables, noodles, cell phones, clothes, basically everything. This was pretty typical for the city.

The photo of Heather on the bridge is the border crossing from Mae Sot, Thailand to Myawaddy, Myanmar. As soon as we crossed the border, it was apparent that things were quite different. The buildings were much more run down, the streets were dirtier and it seemed everyone was trying to leave - so not unlike crossing the border into Buffalo.
We quickly exchanged our Thai Baht to Myanmar Kyat (pronounced 'Chat') with a black market vendor on the street and found a 'bus' to take us on the 8 hour trip to Yangon. Myanmar built a new highway out of Myawaddy in 2014, before that traffic flowed in and out of the town on alternating days. The bus was really a small, dirty mini-van with poor AC and horribly uncomfortable seats. To make things worse, the driver insisted on playing Burmese covers of Boney M's Rasputin and The Cranberries Zombie. At first it was cute, as you can tell by this video, but on the 4th play it was painful and by the 10th it was torturous. It's hard to express how rough the ride was, but to put it into perspective; when we finally arrived in Yangon and had to take a cab to our hotel. Heather opened the door, sat down in the car and calmy expressed that someone had puked in the cab. Expecting to see some old crusty dried vomit, Ryan was surprised to see fresh puke on the seat. It didn't faze Heather, it was a minor inconvenience at this point and it was not going to delay her from getting to the hotel for some long overdue rest.

Fortunately, the hectic border town and crazy 'bus' ride was by far the worst part of our three weeks in Myanmar. Feeling fresh the following day, we went walking throughout the massive city and found beautiful old Pagoda's, wide open parks full of kids playing and a took a stroll on the boardwalk around a large lake with nice shops along the way.

---
February 28, 2016 - Pai, Thailand
---
Pai
We have been in Pai for almost a week now. Beautiful landscapes with mountains in every direction, friendly people, great food and fresh coffee... we may be here a while.

There is lots to do here, from visiting hot springs, local canyons, mountain temples, farms and all the great coffee shops and restaurants.
---
February 4, 2016 - Koh Tao, Thailand
---
Scuba Diving!
We went to Koh Tao which is known around the world as a scuba diving mecca. We got our SSI Open Water certification after taking a four day course. This means that we can now dive anywhere in the world to a depth of 18m.
After getting certified, we did two 'fun dives'. It was amazing!
---
January 12, 2016- Koh Samui, Thailand
Water Buffalo and Sunsets
After exploring a nearby beach, walking back to our scooter, we found this beautiful sunset and a Water Buffalo! We figured by the horns that this one is part of the Loyal Order.
---
January 10, 2016- Koh Samui, Thailand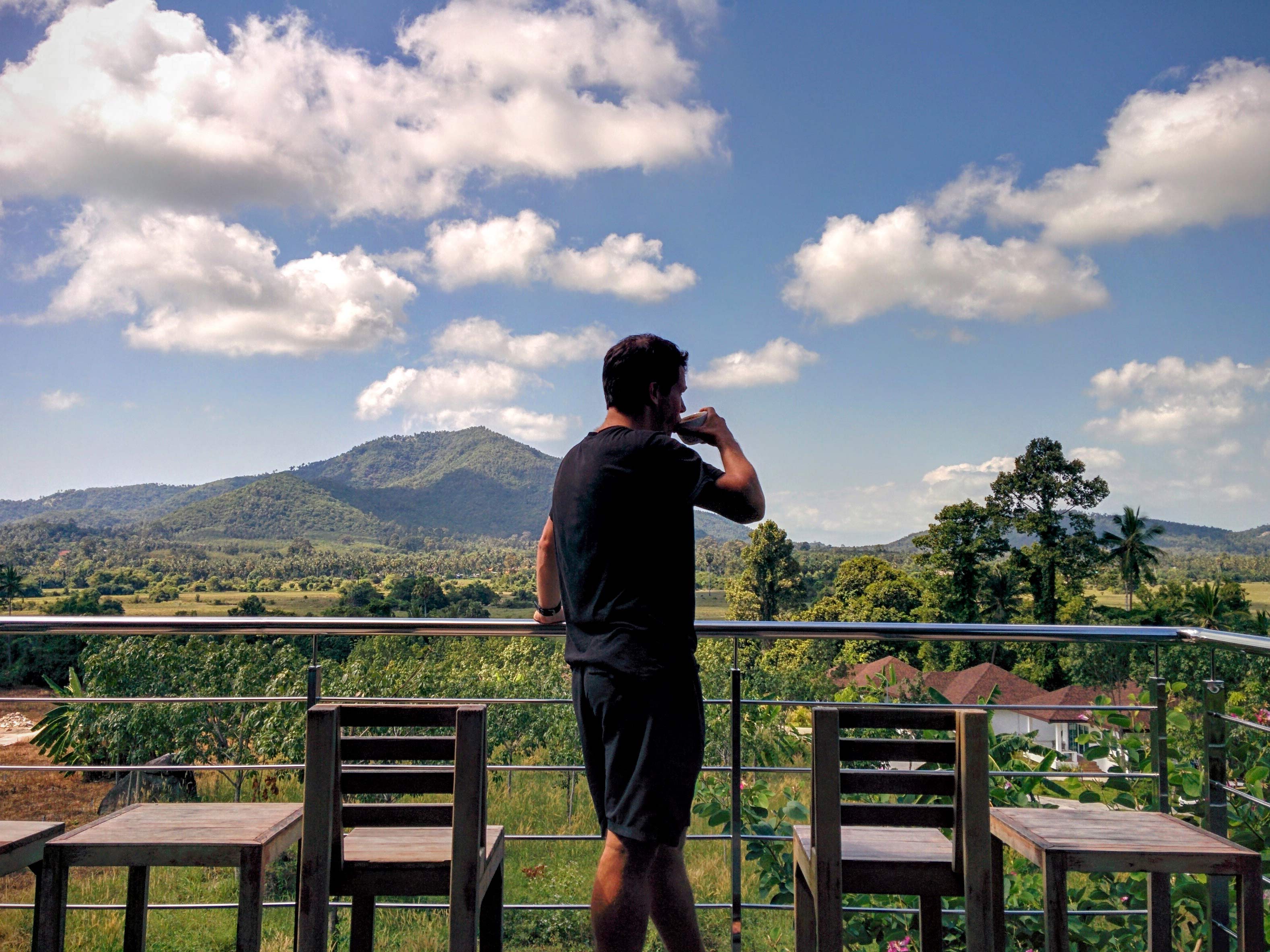 Coffee again!
Heather snuck this photo of Ryan enjoying some real coffee. We found this cute little cafe in the hills of Southern Koh Samui overlooking a valley with some little mountains in the background. Stopping at this little cafe for a coffee became part of our routine, how could it not?
---
January 9, 2016- Koh Samui, Thailand
Making friends and having coffee
We met these two characters while enjoying a nice fresh coffee.
---
December 28, 2015 - Koh Phi Phi, Thailand
Watching The Beach by the beach
There's a great bar in Koh Phi Phi with a rooftop patio and they screen movies every night. After enjoying burritos during the day, we ventured back at night to watch the classic The Beach. If anyone has fond memories of that movie, we caution you that it didn't age well at all. That being said, enjoying drinks, the warm Koh Phi Phi air and watching a silly movie about a paradise that is a kilometers away was great fun. For those wondering, we didn't go to where the movie was filmed, since the secret was let out, that island is overrun by tourists everyday, and considering it was the busiest tourist time of the year, we didn't bother going. No regrets.
---
December 25, 2015 - Phuket, Thailand
Christmas in Phuket!
After sharing presents and enjoying a decent Christmas morning breakfast, we thought we would have some nice family time at home, by the pool. Merry Christmas!
---
December 24, 2015 - Phuket, Thailand
Jelly Fish!!!
Our first beach day in Phuket was cut a little bit short. After playing Chicken and Monkey in the Middle (aka Piggy in the Middle) for a little bit, Heather started to feel a little burning on her leg. The local Thai lifeguards came by to see the patient and quickly helped by spraying something and placing leaves on the wound. Before all that though, Heather was so excited to get into the water that she basically ran through the sun.
---
December 21, 2015 - Georgetown, Penang, Malaysia
Heading to Phuket!
After four great days in Penang, full of great food, charming accomodations and Star Wars - we are heading back to Thailand for Christmas in Phuket.
As a consolation to free 'What A Bagel' bagels on Ryan's birthday, we stopped at the only bagel joint we know in Southeast Asia for some cream cheese and lox before going to the airport.
---
December 20, 2015 - George Town, Penang, Malaysia
The Force Awakens
Ryan was quite keen to see the new Star Wars movie but he had some serious critera for which he would watch. Worried that theater would lack a digital projector and have sub-standard sound, he was very pleasantly surprised to find a theater not only with both, but also bean bag couches and reserved seating; tickets were only about $6 to boot!
---
December 17, 2015 - Georgetown, Penang, Malaysia
Fresh Bagels and Real Coffee!
We took a little half hour flight this morning from Langkawi to Penang and arrived early at our hotel ( Cintra Heritage House), so we went on a search for lunch and to kill time. So far, from what we can tell, Georgetown, Penang is Brooklyn meets India with a a sprinkle of Malaysia. Lots of old buildings with history and plenty of new Gastropubs and Coffee Houses. Also, Bagels, real bakery fresh bagels. It's a Chanukah miracle!
---
Mountains and Waterfalls
We've been in Langkawi, a beautiful island in North Western Malaysia for four nights now. It's a great little island (about a 50km drive around the entire coast) with tall mountains in the middle.
Today we took a gondola ride (the steepest in the world) to the second highest peak. It was very beautiful, the photos don't quite do it justice. Afterward, we walked to the nearby 'Seven Wells' waterfalls and went swimming.
---
December 14, 2015 - Langkawi, Malaysia
A Room with a View
We spent two nights in a nice room just off the main strip; before committing to another three, we decided to see if we could do better closer to the beach and we were rewarded with a room with a great view of the beach and beautiful sunset.
The top photo was taken just after sunset and right before an awesome lightning storm. We were able to stay dry and enjoy the natural light show from our balcony. The bottom was taken in the morning
---
Riverside walk in Singapore
After a long day of walking all over Singapore; checking out the markets near Bugis MRT and walking along Orchard Road, we finally got back to our hostel along the bustling Riverside road.
---
Who has two thumbs and loves the view from our hotel's infinity pool?
The view is amazing. A cheap bottle of wine and a late night dip. Not much else to say, we are happy.
---
December 3, 2015 - Kuala Lumpur
Christmas time in Kuala Lumpur
Our first full day in Kuala Lumpur! We took the super cheap transit from our AirBNB to Little India and Chinatown. We strolled through the area, taking our time to take everything in. After a small bite and some Kopi (coffee), we hopped on the monorail to Bukit Bitang; an area full of malls, shops, some western restaurants and looks of people and construction.
It was strange to see all the Christmas decorations with it being 30°C outside.
---
November 24, 2015 - Koh Chang
Nothing like a bag of iced coffee in the morning
We awoke to a rather large spider in our bathroom at 3 in the morning, so to help Heather perk up in the morning, Ryan grabbed an iced coffee from one of the many street venders while also getting gas for the scooter.
This was taken right outside our little seaside hut before we moved down the road to Magic Garden.
---
The Sunsets are beautiful
Our beach hut tree house is on the east side of the island offering up amazing views on the sun rising right from our bed. But the other side is just a short five minute walk away. The photo may look nice, but trust us, it doesn't do it justice. Each night we would go watch the sunset after swimming at the beach and before we get ready for dinner.
---
November 13, 2015 - Koh Samed - Apache Beach Hut
This place was special
As you can see, we literally could not be more 'on the beach' Our little hut consisted of a bed, a fan and great little porch to sit out on and watch the beautiful sun shining on our own little bit of paradise. This was no frills, this was very 'Swiss Family Robinson' From our balcony, we could check to see if the restaurant on the pier had any tables open for us.
We really enjoyed our three nights here. We ate great food at the restaurant, relaxed on the beach or went snorkeling during the day and then at night, quietly read on our balcony after watching the sunset.
---
Speaking of the other side of the street
This is the quieter side of the street, the side our hotel is on. We spent the morning just walking around and exploring. After lunch nearby, we decided to walk back to our hotel and go for a swim.
---
Walking down our street
So at the end of our first full day, we took a walk down the famour Kao San Road; it was lively, hectic and a little short. We much preferred the vibe on Rambuttri Avenue which runs parrallel one block north. Our hotel is just a little bit up the way from here, on the quieter side of the road.
---
Swimming on our first day in Bangkok
Our first day, we enjoyed breakfast and then went for a walk around the neighbourhood. After such a long day of travel and coming from Toronto in November, we decided to go for a dip in the rooftop hotel pool. Why not? It's not like we were in a rush. We also did some homework about where to go at night and how to get there
---
Our first, kinda yummy, breakfast next to the first of many Koi Ponds
After 22 hours in the air, we had finally arrived at the airport in Bangkok, it was close to midnight on November 2nd and all we wanted to do was sleep.
Our first morning was great, we awoke to a beautiful day and made our way down to the international buffet for breakfast. From scrambled eggs to sweet and sour pork, the buffet covered all appetittes. Little did I know, that first morning's brewed coffee was going to be the best and one of the last brewed coffee's I'd have for a quite a while. Instant coffee is the norm it seems across most of Thailand.
We enjoyed this buffet for each of the five mornings we had in Bangkok
---